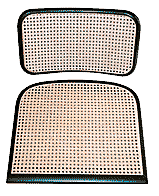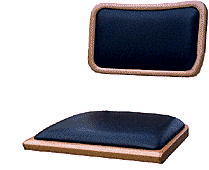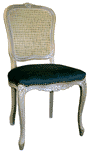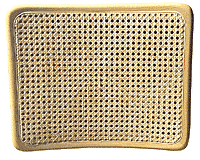 Breuer Seats and Backs are imported from Italy and constructed of solid beech wood, finger jointed at the corners for strength. The sheet of cane is machine woven and held in place with a spline. Available from stock in natural, honey, teak, walnut, black, or white.
Click here to see the Color Charts.
Seats: 18 3/8" wide X 16 3/8" deep $44
Backs: 18" wide X 11" high $44
Upholstered Seats and Backs from Italy. A solid beech wood border surrounds a padded upholstered insert. Shown here in black vinyl. Also available in white or cream vinyl. Black, cream, or turquoise canvas.
Seats or backs: $69
Taupe

Floor glides. Hard plastic glides protect vinyl, wood, and ceramic floors from scratches. Order four per chair. Black or white.
$.50 each
(Minimum order 20 pc.)
Gemma Seat Used on Breuer Stools and other chrome framed chairs. Natural beech with blonde cane. Slightly curved from side to side.
17" wide X 14.5" deep. $44